Military National Championships
Sold Out
Wear what the players wear.
The official tournament shirt of the 2019 Military Racquetball National Championships at Fort Hood, Texas.
Back by popular demand. Put your money where your mouth is. Everyone said they wanted one, here's your chance.
Our dri-performance, smooth as silk, knit fabric crew with a camo overprint. Wicks moisture away from your body. Super soft 100% polyester.
Limited edition. If you see your size, grab it. It probably won't be available next time you look.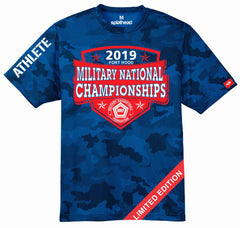 + CLICK IMAGE TO ZOOM