Fetish-Quarter High
Ultra soft performance-wear moisture management quarter high with cushioned toe and heel areas. Features include arch support band, and seamless toe construction. Splathead logo woven on each side.
Large will fit men's sizes 8 to 12 and women's sizes 9 to 12.
Medium will fit men's sizes 4 to 8 and women's sizes 6 to 9.
Made in the USA.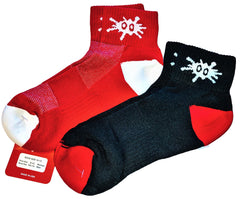 + CLICK IMAGE TO ZOOM