Central Park Tank
There's nothing like playing racquetball by the beach, and there's nothing like playing racquetball in a beautiful park. And you can't find a more beautiful park than Central Park in New York City. The park is always alive, but no more so than the last weekend in July when the best outdoor racquetball players in the city and beyond gather for their annual tournament. 12 beautiful one-wall courts nestled in the North Meadow. Check it out, the courts are open every day.
Printed by hand on our classic fit, 100% soft cotton. A reprint of the actual 2014 tournament shirt.
Colors available: White, Light Blue, Orange, Gold, and Heather Grey printed with navy ink.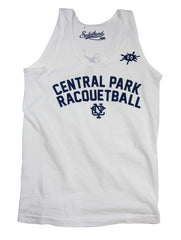 + CLICK IMAGE TO ZOOM